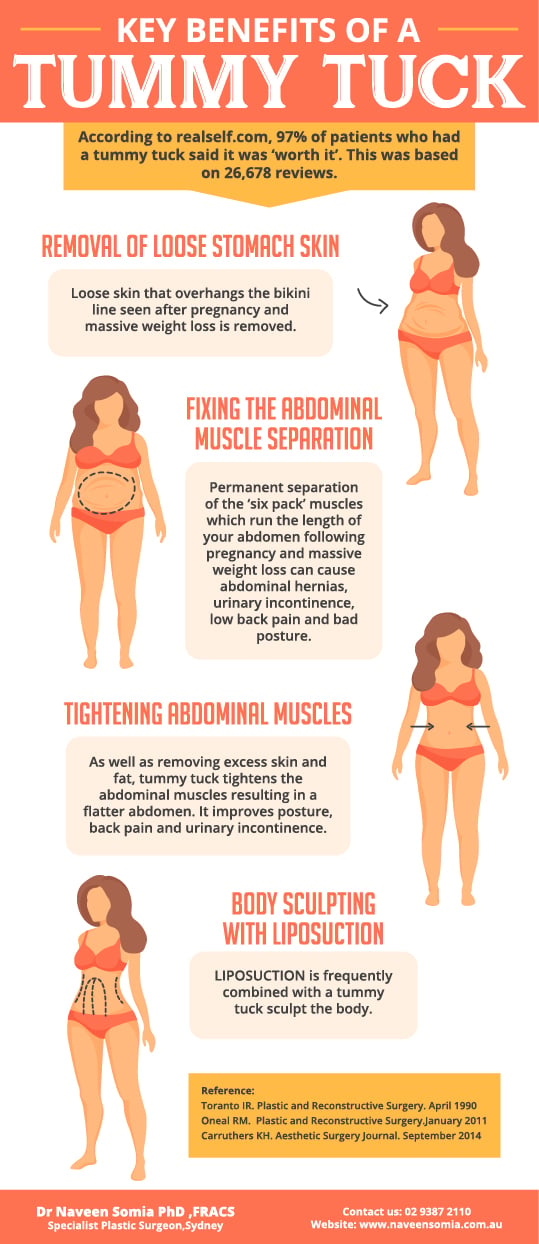 We hope you found this infographic which depicts the 4 key benefits to tummy tuck surgery useful. The benefits of tummy tuck include removal of the loose tummy skin, fixing the muscle separation that is common, tightening your six pack muscle and liposuction for a smooth body contour.
The medical or therapeutic benefits of a tummy tuck operation outweigh the cosmetic benefits. They are a visibly flatter and tighter stomach, better posture, reduction of low back pain and improvement of urinary incontinence. Following tummy tuck, patients can exercise better and maintain a better level of fitness and overall health. According to the real self survey of over 25,000 patients, 97% said that a tummy tuck was worth going through for the medical and cosmetic benefits. Tummy tuck surgery is performed under general anaesthesia with a 3 -5 day hospital stay. If you have any other questions or concerns about plastic surgery or cosmetic surgery please call our office on 02 9387 2110 to make a time to see Dr Somia in person or send an enquiry on our contact page and we will do our best to help.
Please note: All procedures carry risk and results vary for each patient. The above information does not replace a consultation with a plastic surgeon.
Don't forget to share this with your friends using the social media icons.