Identifying the reasons why you are experiencing certain symptoms and which pathway to take can be tricky. Here are just a few of the commonly asked questions
Why is the skin above my eye sagging or what causes
overhanging eyelids

?
Droopy eyelid is caused by weakness in the muscle that is responsible for opening the upper eyelid. Some are born with a weak muscle while most patients notice gradual weakening as a result of the ageing process. The muscle gets overstretched similar to an overstretched rubber band that loses its tension.
Other causes for overhanging eyelids include:
Eyelid growths, m
uscular and neurological problems, n
erve damage in the eye muscles trauma and as a complication of anti-wrinkle injections.
Can hooded eyes cause vision problems

?
Patients with hooded eyelids, droopy or weak eyelids may have these practical concerns that they are unaware of being caused by their eyelids:
* Vision is bad despite wearing reading glasses.
* Difficulty reading in dim light situations (early morning / late evening)
* Difficulty driving at night
* Restaurant menus are hard to read
* Occasionally run into objects because you did not see them

Eyebags primarily occur when the under-eye cheek bone shrinks as a natural feature of age. As a result, the skin and muscles around the eye region becomes lax, loose and the fat starts to bulge.
What can be done for sagging or droopy eyelids?
Upper eyelid blepharoplasty and ptosis correction can remove excess upper eyelid skin, fix hooded eyelids and lift droopy upper eyelids. This surgery can get rid of ageing changes seen in people in their 40s, 50s and 60s and helps improve facial appearance by restoring youthful looks.
What can be done for eyebags

?
Lower eyelid surgery or lower blepharoplasty can remove loose, excess and crepey skin, remove eyebags, tighten the lower eyelid, fix the deep under eye grooves and restore youthful contours of the lower eyelid and cheek.
Are there exercises for hooded eyelids?
Unlike other muscles in the body attempts to strengthen the eyelid muscles with exercises will not improve the ptosis.
Are there home remedies and serums for eye bags?
Whilst serums can improve the appearance of fine lines and improve the texture of your skin they can only go so far. For permanent correction a surgical solution is required.
Where can I learn more about eyelid surgery?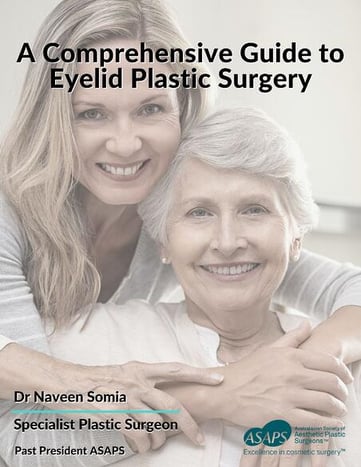 If you would like to consult with Dr Somia regarding eyelid surgery or any other plastic or cosmetic surgery procedure please call us on 9387 2110 or send an email to info@naveensomia.com.au
All procedures carry risk. We recommend you seek a 2nd opinion from an appropriately qualified health practitioner.