Myths abound when it comes to this surgical procedure. Over the last 25 years scientific research and new technologies have made it more user friendly for both the patient and surgeon by making the procedure safer, easier, more predictable and less painful. There are 5 techniques available in Sydney but lets start at the beginning.
What does it do?
It removes unwanted fat to improve the shape and contour of your body.
How does it work?
A small cut is made in the skin through which thin steel tubes ranging from 3 to 5 mm are introduced into the fat layer. The other end of the metal tube is connected to suction similar to a household vacuum suction. The Plastic Surgeon moves the metal tube back and forth within the fat layer to target unwanted fat deposits.
What are the 5 different types?
Tumescent
A predetermined amount of fluid is infused into the fat layer of the body, a procedure called tumescence. This fluid contains anaesthesia and a drug to reduce bleeding. This 'wetting' procedure facilitates liposuction and minimizes bleeding and pain.
Power Assisted
In addition to infiltration of the fluid, the 'power action' (rapid back and forth movement of the cannula) helps fat removal.
Laser Assisted
In addition to infiltration of the fluid, the 'Laser' energy is used to liquefy fat prior to fat removal.
VASER (Ultrasonic)
In addition to infiltration of the fluid, the 'ultrasonic VASER' helps to liquefy fat before fat removal. This has the added benefit of skin tightening that is desirable.
Water Assisted (WAL)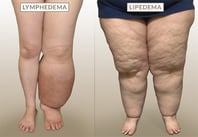 In addition to infiltration of the fluid, the 'high pressure water jet' helps to dislodge the fat with ease before removing it. This is a gentler form and often named as 'lymph sparing' liposuction. This is the preferred method worldwide to treat patients with Lipoedema but is effective in all types of patients and many report less bruising and pain.
Does It Work?
Yes it does. But like all surgical procedures it takes more than two to tango.
It is effective when it is done for the right reasons, in appropriate patients, by properly trained Surgeons using the appropriate method and good post operative care.
Is it mainly done for cosmetic reasons or are there medical reasons for this procedure?
In the popular press liposuction equals Cosmetic Surgery.
However there are many medical conditions where it is a very effective form of treatment.
Lipoma Treatment

Treatment of Liposdytrophy

Insulin Related Lipodystrophy

Lipoedema of the Lower Legs

Lymphoedema following Surgery or Radiotherapy
Doctors Rooms, Day Surgery or Hospital?
Small amounts of fat can be removed under local anaesthesia in Doctor's rooms. The current NSW Health regulations governing invasive Cosmetic Surgery procedures recommend that all invasive cosmetic surgery procedures be carried out in properly accredited facilities similar to Hospitals.
Is It Safe?
Safety can be ensured if it is done for the right reasons, in the right place, by the right person. A Plastic Surgeon who is trained in Liposuction and in the management of liposuction related complications is a safer option.
Will it help you to lose weight?
It is not recommended for weight loss and should not be considered as a weight loss option. It can help in removing or reducing stubborn fat deposits that have not responded to diet and exercise for example the flank or love handles.
What to expect after
Immediately after the operation you will be asked to wear a compression garment. You should wear it for up to 6 weeks or as recommended by your surgeon. Bruising is present and can last upto 2-3 weeks. Swelling can persist for up to 12 weeks but you will notice changes after 6 weeks. It is important to be mobile and active within limits of discomfort and maintain a nutritious diet. Medications such as antibiotics and pain killers can be stopped after a week.
When can you see the results?
Some improvement in the body contour is noticeable instantly. However the swelling will take weeks and in some cases months to resolve. Typical 6-12 weeks is when you start seeing results and you will notice continuous improvement for up to a year.
Interested in learning more?
Click the image below to register for our
plastic surgery webinars coming in 2017