The formation of tiny bumps or lumps can occur during the healing process after any surgery, including eyelid surgery. In this blog I'll discuss what situations can cause lumps after a blepharoplasty as well as how they can be treated. It's important to note that you should never self diagnose and treat yourself. Always follow up with your plastic surgeon, they are experts in cosmetic surgery and will ensure you don't inflict any damage on yourself.
A small lump, the size of a grain of rice can occur along the incision after blepharoplasty. This is a normal occurrence. It's due to fibrosis or focal swelling after any surgery, since eyelid skin is quite thin, the lumps are easily seen and felt.
The most common reason for small lumps that occur along the eyelid incision may be due to lymphatic fluid retention or a small amount of scar tissue. The scar tissue in the immediate post-operative period is usually raised and feels firm. All blepharoplasty and eyelid surgery scars get worse before they get better. The scar will mature and soften over 3 – 4 months. Normally no intervention is required and these scars respond well to routine scar treatment like moisturising creams and silicone gel. A small dose of cortisone injected into the scar may be used occasionally to help break up these small, hard lumps.
It is possible that a lump or granuloma may form as a reaction to suture material used in eyelid surgery. Suture reaction occurs when the body develops a wall of scar around a retained stitch, particularly around the knot. Since the eyelid skin is very thin, these lumps are easily felt. When deep sutures are used to anchor eyelid tissues to the bone (periosteum), often a lump is formed. This is commonly seen following lower eyelid surgery. If you had a transconjunctival blepharoplasty with the incision made inside of the eyelid, it is possible that the lump is a reaction to the ointment that was placed on your eye during surgery. The ointment can incite a foreign body reaction. The treatment is surgical excision and it is relatively simple. It can be done in the office with minimal to no pain.
It's possible that the lump could be:
A fluid-filled cyst (a seroma) or a hematoma (a collection of blood): This will resolve on its own with time.
A fat nodule: That's if you had fat injected at the same time of the procedure.
A small chalazion or stye: This can sometimes develop after manipulation of the eyelid during surgery. An ophthalmologist can remove the stye without a problem.
A bacterial infection: Although uncommon, the lump could represent this. If the lump is red and painful and not resolving, it could be a small localised infection or abscess along your incision. It should respond to treatment with warm soaks and antibiotics. If it doesn't, a small part of the incision may need to be opened to allow the area to drain and resolve.
Always follow up with your surgeon for expert analysis and treatment
Given the various possible explanations for a hard lump appearing after blepharoplasty, it is important to follow up with your surgeon to determine what type of lump it actually is and the best course of action. Close communication with your cosmetic surgeon will help you to obtain answers to any questions you may have during the healing process following surgery.
There has never been a better time to have cosmetic eyelid surgery
With modern techniques and recent technological advancements, eyelid surgery has become safe, effective and capable of delivering results that you always wanted with minimal pain, discomfort and downtime. A skilled and capable plastic surgeon who uses modern techniques can offer you better and longer lasting results while the specialist anaesthetist ensures your safety and comfort in a modern hospital.
As with any medical procedure, it is important to seek the advice of a skilled professional capable of addressing your concern. Since each person's anatomy and response to surgery and healing is different, an evaluation by a plastic surgeon can help you explore all options and determine the appropriate approach that addresses your concerns.
Tips on how to choose the right plastic surgeon for eyelid surgery
In Australia you should seek out a FRACS Plastic Surgeon. The FRACS Plastic Surgeon has 5 key attributes among others:
Is fully qualified in Plastic Surgery including Cosmetic and Reconstructive Surgery
Is trained by the Royal Australasian College of Surgeons (RACS) which is the only College in Australia authorised by the Australian Medical Council (AMC) to train Surgeons
Is registered as a Specialist Plastic Surgeon with the National Medical Board of Australia
Is recognised as a 'Specialist in his or her field' by Medicare Australia
Is a member of the Australian Society of Plastic Surgeons (ASPS) and the Australian Society of Aesthetic Plastic Surgeons (ASAPS)
If you need additional information to assist you in deciding whether cosmetic surgery is the right option for you, send me a quick email at info@naveensomia.com.au and I will happily assist you.
Do you have any concerns about eyelid surgery? If so I invite you to download my free eBook 'Top 10 eyelid surgery FAQs - What you really need to know before going under the knife'. You'll find the top 10 frequently asked questions about eyelid surgery from patients over the years and the answers I gave them. Click on the button below to get your copy now.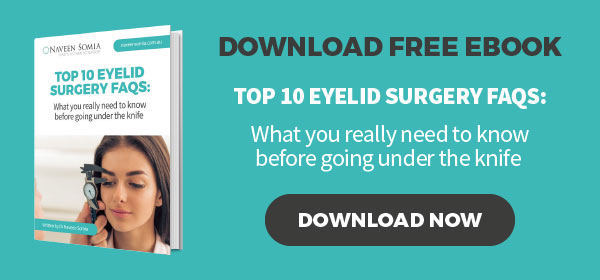 Was this article helpful? I would love to hear your feedback, please let me know in the comment section below.
Don't forget to share this with your friends using the social media icons.
Read More